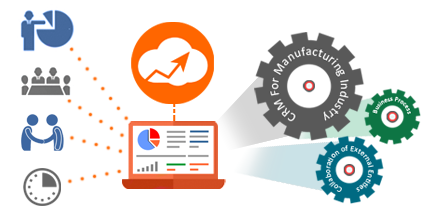 CRM (Customer Relationship Management) Software can be an ideal companion for the businesses operating in the Manufacturing Industry. As the advent of new technology changes the way the manufacturing industry works, the demand for new markets and supply models of collaboration are evolving.
The new regulations and environmental concerns need to be addressed by the manufacturing industries. This is the reason businesses in the manufacturing industry or associated with it require complete insights about technology, regulations, competition, demand & supply chains as well as customer support to have the upper edge in the market. Customer Relationship Management (CRM) Software such as MeraCRM provides the right tools to stay ahead of the competition.
MeraCRM is the perfect CRM for Manufacturing Industry, helping businesses create simplified strategies for decision-making. With exploration, analysis and examination of the challenges and opportunities CRM for manufacturing industry can help you stay ahead. All the major manufacturing industries such as machinery, components, technology, food processing, engineering etc. require a CRM for manufacturing industry that blends into their working strategy and provides significant insights that are required for your business to prosper.
Mera CRM for manufacturing Industry helps you with:
Valuable Insights: CRM for manufacturing industry must be able to provide valuable insights on screen that helps you improve your product quality and operation processes over time. Your marketing strategy gets the driving force it needs to improve your commercial reach which helps increase profits and reduce business risks.
Marketing Intelligence: The important formation refined by the CRM for manufacturing industry through interaction with the customers, helps you perform an assessment of all the key strategies of your competitors and improve you business accordingly.
Customer Feedback: Customer is the most effective brand ambassador for your business and with Mera CRM for a manufacturing industry; you can assess the requirements of your customers and increase your public reputation.