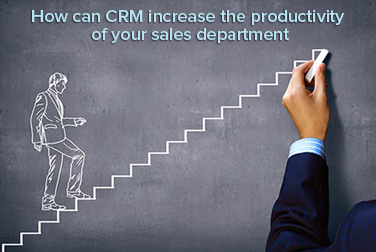 The business world is an ever changing scenario and keeping up with the changes in the marketplace is the only way to succeed. As businesses evolve new concepts are developed and implemented to improve the business's efficiency. Customer Relationship Management (CRM) is one of the things that were the result of this evolution.
CRM is the way a business manages its interaction with its customers. There has been a lot of development to improve the CRM systems. CRM software is the most notable change in the way businesses manage their customer experience. There are a lot of ways in which CRM software helps improve the productivity of your business.
To see how CRM can increase the productivity of your sales team let's look into how the sales team works.
Normally there are 3 subdivisions in the sales department: Inside, Outside, and Management.
Outside Sales Team: Your people on the field need up-to-date information about the leads. They are the people that will finalize the sale so it is important that they have all possible information as quickly as possible. CRM software offers a great deal of utility for this purpose. All data in CRM database is stored on a central server and can be accessed from anywhere by anyone with an internet connection. This allows your outside sales representative to extract any information they need. All information is also immediately updated on the server so the sales representative gets updated about any changes in the data made by others. Cloud based CRMs have an advantage here as not just data, but every function of the software can be accessed from a device with internet connection.
Inside Sales Team: One of the many jobs of the inside sales team is to obtain and organize information about prospects and leads. CRM software greatly reduces the work that has to be done in organizing the data. The software provides tools for easy categorization of leads.Another important feature of a good CRM solution is that it allows scheduling tasks. You cannot trust human memory to remember important tasks on time. It is easier to remember things when you are alerted of tasks you have to do along with all the important information relating to the task. CRM software allows users to set reminders and alerts for activities like follow-up calls, emails, and schedule appointments. These interactions should be recorded into the system for later reviewing. So a CRM software solution makes organization and handling the enormous amounts of data easier and faster.
Management Team: The control center of your sales department needs to be updated about every activity happening in the sales department. They need detailed and regular reports on the performance of the team. Doing all of this manually is very time-consuming and prone to error. CRM software solutions will make the processes a lot more convenient. As all data is centrally stored in an organized manner and can be retrieved in forms of reports and graphs providing an overview of the department's performance.
A good CRM will also let you set and review targets for individuals in the sales department, giving you more control over the department. Assigning tasks and setting alerts for important tasks and assigning priorities become as easy as clicking a button, making sure that all tasks are well understood and met before the deadline.
These are only some of the benefits that a CRM software solution can offer for your organization. There are a lot of other features that can and will improve the productivity of the sales department. When implemented correctly the benefits of a CRM solution can be seen quickly. More and more businesses are adopting CRM software solution to keep ahead of their competitors. It is not a choice anymore but is slowly becoming a necessity.