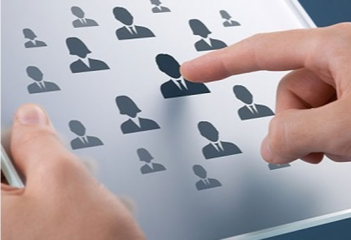 In today's competitive scenario, Student recruitment is a very crucial part of the student recruitment. The most important criteria for the institutions to survive in such a competitive era is to adapt according to the changing needs of today's students. No wonder institutions are struggling to plan and manage the effective recruitment process. Being efficient and highly effective throughout the student recruitment process, starting from marketing and first meeting to acceptance is a must. Use of technology and the right tool plays an important role in this process.
Recruiters face many challenges in successfully recruiting the present generation prospective students.
Cloud-Based Solutions
Users can access CRM functionality through browser-based applications anytime and from anywhere. The biggest benefit of the cloud-based CRM is that facilitates enterprisewide storage and sharing of data.
Some institutions spend the inordinate amount of time simply moving the data around leaving very less time for productive work. They make use of different tools for different tasks including email, marketing, and enterprise resource planning (ERP) systems for the recruitment process.
Instead of using so many different tools, cloud-based CRM is the single tool that can help accomplish all the tasks. multiple departments with multiple requirements can anytime log into the shared database and perform tasks in minutes that used to take days.
Predictive Analysis
In this generation of big data, centralized data storage on CRM means that predictive modeling won't be far behind. Using CRM, institutions can predict everything about the student from the possibility of that student to apply to his dropout risk. Almost everything can be predicted. Recruiters must be able to rapidly recognize and discuss any potential issues during the process. With powerful real-time analytics, institutions can pinpoint past issues and predict the likelihoods about the students.
Personalized Contact
The expectations of the prospective student raise every time they interact with the institution delivering excellent levels of service. You must reach up to their expectations and at least meet or at best go beyond their expectations in order to initiate applications. An institution's relationship with its student lasts for the lifetime. A CRM system helps to establish and nurture these relationships- from the first contact with the student through the whole recruitment process and further through student's on campus years. Using CRM, a recruiter can send targeted communications to local students, international students, and other potential students. Such tailored communications address the needs, experiences and expectations in a more meaningful way, resulting a stronger relationship between student and the institution.
Leverage Social Media
Digital media helps to provide the exceptional personal experience. Social media is a place where students regularly hang out, do research and explorations. So presence on these media is an inevitable requirement. It is very important for the recruitment team to leverage this sites into their overall strategy. As with cloud, the connection between the social media and CRM comes up with advantage. Using CRM they can gather information about interests and needs of the prospective students.
Analyze Recruitment Outputs
Recruiting teams can never afford to waste money on ineffective campaigns. They need various reporting tools that can provide intuitions throughout the recruitment process. Then analyze the reports. They must make changes and based on the analysis of the outputs, reallocation of resources should be done to achieve success.
CRM technology is very helpful in student recruitment process. Using CRM tool, institutions can minimize the cost associated with the recruitment process. CRM tool allows them to manage important data and interactions in a single, well-defined and integrated record.
By adopting these practices, institutions can improve satisfaction, increase efficiency and achieve goals. Using CRM recruitment teams can optimize the process and achieve exceptional enrollment goals.